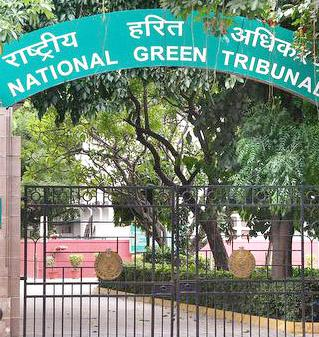 The National Green Tribunal (NGT) has ordered the District Magistrate of Darjeeling to pay a compensation of ₹20 lakh each to the kin of three deceased persons engaged in illegal mining activities on the Balason riverbed in Siliguri, West Bengal.
Two children, along with a 20-year-old man, were crushed to death on March 6 while illegally loading sand onto a truck on the Balason riverbed. The victims were promised a sum of ₹350 each per truck.
The NGT also ordered a compensation of ₹5 lakh for those injured in the accident.
The tribunal has taken suo motu cognizance on the basis of a report titled "Three children die during illegal mining in West Bengal" in The Hindu dated March 7.
"In the present case, death(s) of the children is patently due to violation of established norms. The State authorities failed to enforce the law and prevent the incident. No safeguards have been used in the process. The State cannot escape liability for the violation of environmental norms," said the order dated March 28.
The NGT Principal Bench comprising Justice Adarsh Kumar Goel (chairperson), Justice Sudhir Agarwal (judicial member), and Dr. Senthil Vel (expert member) said that no steps have been taken for recovery of compensation from the violator as per environmental law nor compensation paid to the victims is as per any reasonable basis.
The NGT also said that it was clear from the facts that the deceased, identified as Monu, 20, Somal and Rohit, aged 15 each, and the injured Naresh Sahani were involved in illegal mining activities.
The Hindu
(National)
🚀 Download the Class24 App here:: 👉 https://bit.ly/3JNNg9O
🚀 Telegram Link: 👉 https://bit.ly/3onyv55
🚀 Facebook Link: 👉 https://bit.ly/3v6LEmH
🚀 Instagram Link: 👉 https://www.instagram.com/class24offi...
🚀 Twitter Link: 👉 https://bit.ly/3BkMTCG
🚀 Youtube Link: 👉 https://bit.ly/3Ecy5p8