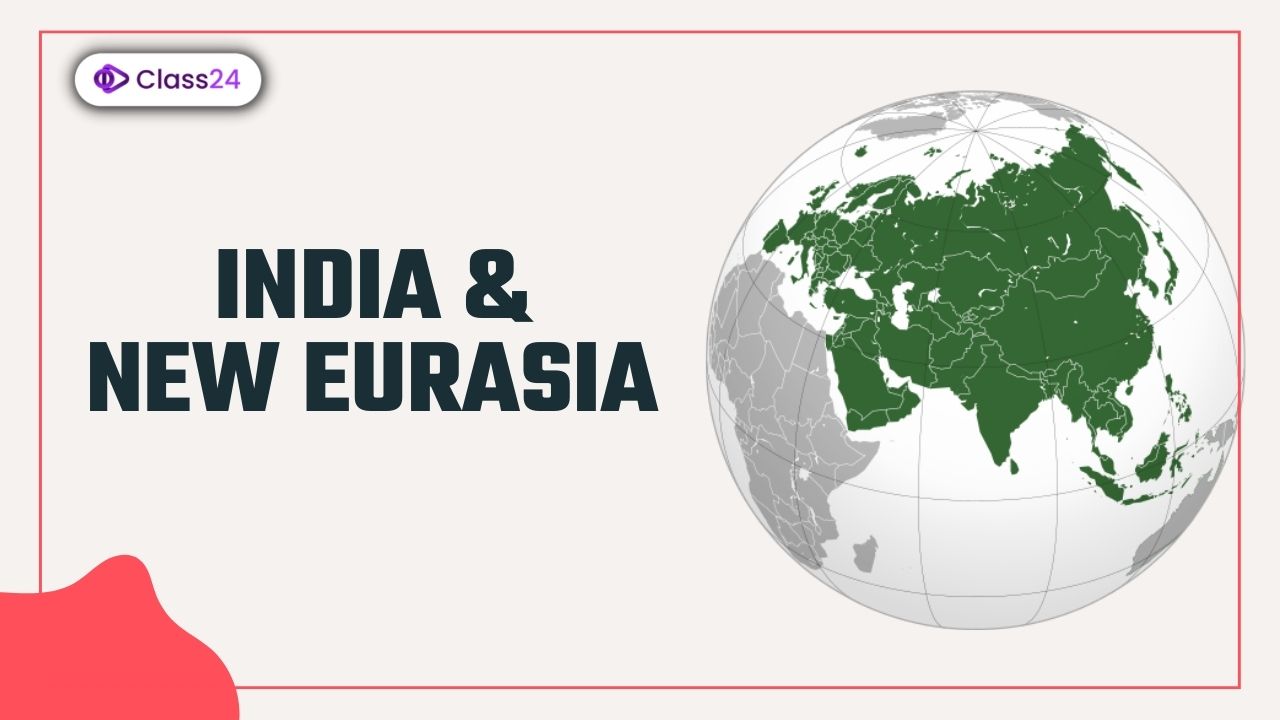 India and the New Eurasia
As 2023 begins, the world is embracing a 'new normal' where old and new fault lines are being reconfigured in Eurasia and the Indo-Pacific.
What is Eurasia?
Vast landmass that connected Europe and Asia.
Europe and Asia emerged as separate political and cultural spheres over the millennia.
Geographically, Eurasia is a tectonic plate that lies under much of Europe and Asia. However, when it comes to the political boundaries, there is no shared international understanding of what constitutes the region.
How has been the New Geopolitical Dynamics in Eurasia?
Japan is trying to build strong military partnerships with Europe, while South Korea, which does not always see eye to eye with Japan, is also trying to raise its profile in Europe.
South Korea is selling major weapons platforms in Poland.
Australia, which has joined the US and UK in the AUKUS (Australia, the UK and the US) arrangement, is equally eager to bring Europe into the Indo-Pacific.
Together Japan, South Korea and Australia are bridging the divide between Asia and Europe long seen as separate geopolitical theaters.
How are other Countries Eurasian Policies?
USA's Interests in Eurasia:
US' interests in Asia lie primarily in the western Pacific and the South China Sea. Both regions are far from the core of the Eurasian theater.
However, amidst mounting challenges from China in the Indo-Pacific maritime domain, Washington has begun to rethink its strategic commitments to Eurasia.
China, A Major Player in Eurasia:
Development in Eurasia is the dramatic rise of China and its growing strategic assertiveness
The expansion of China's Belt and Road initiative and Europe's growing economic interdependence with China have added to Beijing's powerful leverages in Eurasia.
Beijing's approach to the long and disputed border with Bhutan and India.
larger role in Afghanistan.
Russia:
Russia saw itself as both a European and Asian power but had trouble becoming a part of either.
Together Russia and China unveiled a Eurasian alliance that they might have hoped would deliver the long-awaited coup de grace to the global hegemony of the West.
How is India's Eurasian Policy?
Security Dialogue:
In 2021, Delhi Regional Security Dialogue on Afghanistan was held as a part of developing a Eurasian strategy. India's National Security Advisor invited his counterparts from Pakistan, Iran, Central Asia, Russia, and China to join this discussion.
International North-South Transport Corridor (INSTC):
The INSTC which aims to bring Eurasia closer together, is a laudable initiative.
It is a multi-modal transportation established on 12th September 2000 in St. Petersburg, by Iran, Russia and India for the purpose of promoting transportation cooperation among the Member States.
As always, if you have any questions or feedback, we'd love to hear from you. You can reach us on support@class24.study or
Call support - +91 78498 41445 ,+91 83029 72601 ,+91 78775 18210
Let's connect with CLASS24
🚀 Download the Class24 App here:
Class24 has been a provide you in reaching your full potential in terms of knowledge and learning by providing you with the top current affairs information.Class24 is one of the most popular Current Affairs website in India for UPSC, SSC, Banking / IBPS, IAS, NTSE, Railways, NDA, CDS, Judiciary, UPPSC, RPSC, BPSC, MPSC, MPPSC, and other state civil services / government job recruitment examinations in India.
Current Affairs is a major part of the exams like UPSC, UPSC CSE, IBPS, SBI, RBI, SSC, Railway, UPPSC, RPSC, BPSC, MPPSC, TNPSC, UKPSC, APPSC, MPSC etc. Many Govt job aspirants have benefited from our Current Affairs website now it's your turn. This is the best current affairs site to find recent updates on Daily Current Affairs not only for competitive exams but also for interviews and updated with the latest information happening in nation and around the world.
Class24 team covers these points in this Class24 YouTube and SSC Class24 YouTube Channels news analysis :
- Daily Current Affairs in Hindi and English
- Current Affairs 2022 Questions and Answers
- Current Affairs PIB
- Current Affairs 2022 in Hindi PDF
- Daily Current Affairs Quiz
-The Hindu Newspaper Analysis
- The Indian Express Newspaper Analysis
- Dainik Jagran Analysis
- The Economic Times Analysis
- Dainik Bhaskar Analysis
- The Financial Express Analysis
Current Affairs Of the Day - 20 Dec 2022 :- Welcome to the Class24 Current Affairs website which provides you with the best compilation of the Daily Current Affairs 2022 taking place across the globe: National issues, International news, Sports covers, Science and Tech, Banking, Economy, Agreement, Appointments, Ranks and Report and General Studies.
FAQ
1. Do class24 have current affairs?
Class24 comes up with the best content for current affairs. Our daily session for current affairs will keep you aware about the recent happenings. Whether it's national, international, sports, awards, appointments etc all the questions asked in exams will not left untouched. Our Pdfs will help you revise thoroughly and daily quiz will help you test your knowledge.

2. What are the various sources of class24 current affairs?
Our session covers all newspapers like The Hindu, The Economic Times, PIB, Times of India, PTI, Indian Express, Business Standard and all Government official websites. Authentic data reaches to you. Apart from daily session, short videos covering whole topic that is relevant to exam as well as your knowledge will be provided. These current affairs will help you to get more marks in NET JRF, SSC CHSL, Insurance, SSC, Railways, UPSC, CLAT, CET and all State Government Exams.

3. How to cover static portion in context of current affairs?
In our sessions we cover the whole topic. Nowadays static parts of questions are framed from current news. We help you brush your knowledge by providing the static portion related to current every time it is there in the news. By revising it many times you will be able to grasp a good command over it..

4. What are the aspects to cover while reading government schemes?
We need to master government schemes to score well in all exams. Other than newspaper there is no way to learn about government schemes, Advertisements in newspapers cover all aspects of the schemes and we with class24 assure that you get the complete information about all the schemes. It will not only help you in exam but also in taking benefit at your personal level.

5. Do class24 provide current affairs PDF?
With class24 get latest daily, weekly, and monthly current affairs for UPSC, SSC, Cet,EO/RO, JRF NET, and RAS SSC CGL, SSC CHSL Exam and 100s of other exams. Go and get your free pdf now!!