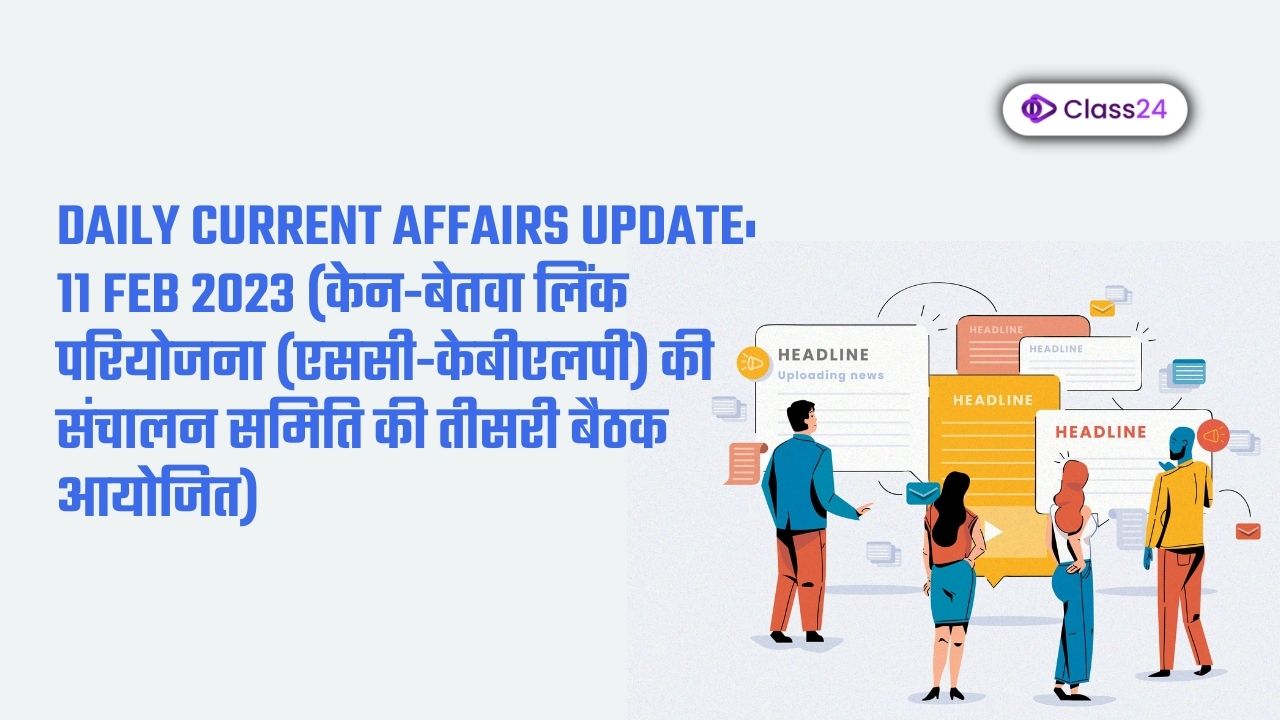 केन-बेतवा लिंक परियोजना (एससी-केबीएलपी) की संचालन समिति की तीसरी बैठक आयोजित
एससी-केबीएलपी बैठक में इस बात पर प्रकाश डाला गया कि परियोजना के लैंडस्केप प्रबंधन योजना (एलएमपी) और पर्यावरण प्रबंधन योजना (ईएमपी) के कार्यान्वयन के लिए ग्रेटर पन्ना लैंडस्केप (जीपीएल) परिषद का गठन किया जा रहा है।
इससे पहले, जीपीएल के लिए एकीकृत एलएमपी 2022 में जल शक्ति मंत्रालय (एमओजेएस) द्वारा जारी किया गया था।
इसे केबीएलपी के संबंध में तैयार किया गया था।
यह बाघों, गिद्धों और घड़ियाल जैसी प्रमुख प्रजातियों के आवास की बेहतर सुरक्षा और प्रबंधन प्रदान करता है।
KBLP नदियों को आपस में जोड़ने के लिए राष्ट्रीय परिप्रेक्ष्य योजना (NPP) के तहत पहली परियोजना है।
इसमें केन नदी से बेतवा नदी में पानी स्थानांतरित करने की परिकल्पना की गई है। ये दोनों यमुना की सहायक नदियाँ हैं।
यह बुंदेलखंड, एक सूखा-प्रवण क्षेत्र में स्थित है, जो उत्तर प्रदेश (यूपी) और मध्य प्रदेश (एमपी) के 13 जिलों में फैला हुआ है।
केबीएलपी के लाभ: सिंचाई, पीने के उद्देश्य के लिए पानी उपलब्ध कराना; बुंदेलखंड क्षेत्र में सूखे की समस्या का समाधान, जल विद्युत आदि का उत्पादन।
केबीएलपी की चिंताएं: कुल पन्ना टाइगर रिजर्व क्षेत्र (महत्वपूर्ण बाघ आवास) का लगभग 7.6% जलमग्न हो जाता है; जीव और पुष्प विविधता के लिए खतरा; दो मिलियन पेड़ों का नुकसान आदि।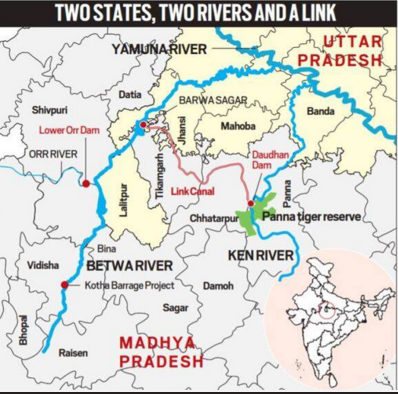 इसके अलावा, दो वन्यजीव अभ्यारण्य मध्य प्रदेश के नौरादेही वन्य जीव अभ्यारण्य और रानी दुर्गावती वन्य जीव अभ्यारण्य और एक, उत्तर प्रदेश के रानीपुर वन्य जीव अभ्यारण्य को राज्य सरकार द्वारा प्रोजेक्ट टाइगर के अंतर्गत लाने की स्वीकृति प्रदान की गई है।
NPP 1980 में तत्कालीन सिंचाई मंत्रालय (अब MoJS) द्वारा तैयार किया गया था, ताकि पानी की अधिकता वाले बेसिनों से पानी की कमी वाले बेसिनों में पानी स्थानांतरित किया जा सके।एनपीपी के आधार पर, राष्ट्रीय जल विकास एजेंसी (एनडब्ल्यूडीए) ने 30 नदी लिंक की पहचान की: 16 प्रायद्वीपीय घटक (केबीएलपी सहित) के तहत और 14 हिमालयी घटक के तहत।
As always, if you have any questions or feedback, we'd love to hear from you. You can reach us on support@class24.study or
Call support - +91 78498 41445 ,+91 83029 72601 ,+91 78775 18210
Let's connect with CLASS24
🚀 Download the Class24 App here:
Class24 has been a provide you in reaching your full potential in terms of knowledge and learning by providing you with the top current affairs information.Class24 is one of the most popular Current Affairs website in India for UPSC, SSC, Banking / IBPS, IAS, NTSE, Railways, NDA, CDS, Judiciary, UPPSC, RPSC, BPSC, MPSC, MPPSC, and other state civil services / government job recruitment examinations in India.
Current Affairs is a major part of the exams like UPSC, UPSC CSE, IBPS, SBI, RBI, SSC, Railway, UPPSC, RPSC, BPSC, MPPSC, TNPSC, UKPSC, APPSC, MPSC etc. Many Govt job aspirants have benefited from our Current Affairs website now it's your turn. This is the best current affairs site to find recent updates on Daily Current Affairs not only for competitive exams but also for interviews and updated with the latest information happening in nation and around the world.
Class24 team covers these points in this Class24 YouTube and SSC Class24 YouTube Channels news analysis :
- Daily Current Affairs in Hindi and English
- Current Affairs 2022 Questions and Answers
- Current Affairs PIB
- Current Affairs 2022 in Hindi PDF
- Daily Current Affairs Quiz
-The Hindu Newspaper Analysis
- The Indian Express Newspaper Analysis
- Dainik Jagran Analysis
- The Economic Times Analysis
- Dainik Bhaskar Analysis
- The Financial Express Analysis
Current Affairs Of the Day - 20 Dec 2022 :- Welcome to the Class24 Current Affairs website which provides you with the best compilation of the Daily Current Affairs 2022 taking place across the globe: National issues, International news, Sports covers, Science and Tech, Banking, Economy, Agreement, Appointments, Ranks and Report and General Studies.
FAQ
1. Do class24 have current affairs?
Class24 comes up with the best content for current affairs. Our daily session for current affairs will keep you aware about the recent happenings. Whether it's national, international, sports, awards, appointments etc all the questions asked in exams will not left untouched. Our Pdfs will help you revise thoroughly and daily quiz will help you test your knowledge.

2. What are the various sources of class24 current affairs?
Our session covers all newspapers like The Hindu, The Economic Times, PIB, Times of India, PTI, Indian Express, Business Standard and all Government official websites. Authentic data reaches to you. Apart from daily session, short videos covering whole topic that is relevant to exam as well as your knowledge will be provided. These current affairs will help you to get more marks in NET JRF, SSC CHSL, Insurance, SSC, Railways, UPSC, CLAT, CET and all State Government Exams.

3. How to cover static portion in context of current affairs?
In our sessions we cover the whole topic. Nowadays static parts of questions are framed from current news. We help you brush your knowledge by providing the static portion related to current every time it is there in the news. By revising it many times you will be able to grasp a good command over it..

4. What are the aspects to cover while reading government schemes?
We need to master government schemes to score well in all exams. Other than newspaper there is no way to learn about government schemes, Advertisements in newspapers cover all aspects of the schemes and we with class24 assure that you get the complete information about all the schemes. It will not only help you in exam but also in taking benefit at your personal level.

5. Do class24 provide current affairs PDF?
With class24 get latest daily, weekly, and monthly current affairs for UPSC, SSC, Cet,EO/RO, JRF NET, and RAS SSC CGL, SSC CHSL Exam and 100s of other exams. Go and get your free pdf now!!