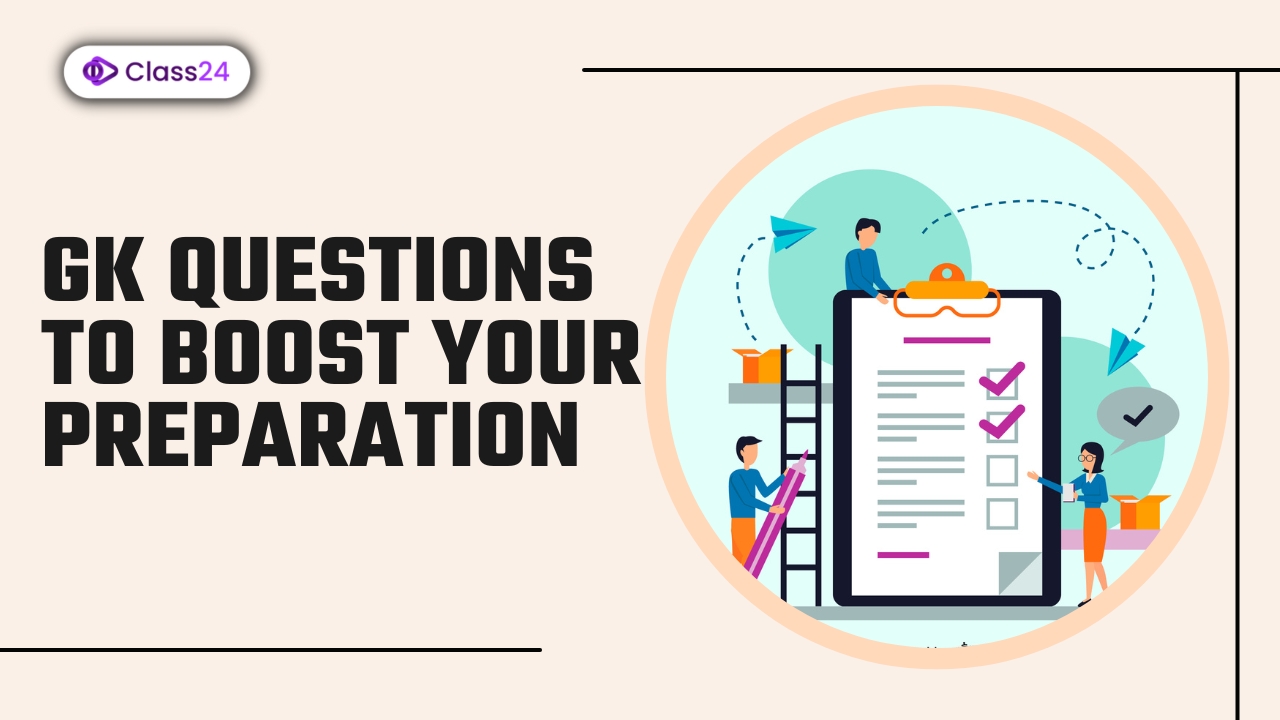 Welcome to Class24's GK Questions Section. This section is a category-wise archive of Class24's GK Questions – 2021-22 in MCQs format on various subjects and states. This section is suitable for aspirants preparing for SSC-CGL and State Level Examinations of various states and also UPSC conducted NDA/ CDS/ IFS/ IES / CSE etc. examinations.
General Knowledge is an important part of any curriculum for any course or exam. It plays a vital role in day-to-day life as well. A person well versed with the basic concepts of general knowledge is able to take informed decisions in life and can add value to any conversation. Moreover it inculcates a sense of responsibility which helps us become model citizens and take initiative in building the nation. General Knowledge covers a vast variety of subjects which cover almost everything under the sun. The main gripe of the students preparing for any exam is to gauge the right strategy to cover such topics. Don't worry our GK questions will help you a bit in your preparation journey.
Which of the following fundamental right is also known to have incorporated a "Necessary Evil" of the Constitution of India?
[A] Protection of certain rights regarding freedom of speech, etc.
[B] Protection in respect of conviction for offences.
[C] Protection of life and personal liberty.
[D] Protection against arrest and detention in certain case
निम्नलिखित में से किस मौलिक अधिकार को भारत के संविधान में "आवश्यक बुराई" शामिल करने के लिए भी जाना जाता है?
[ए] भाषण की स्वतंत्रता आदि के संबंध में कुछ अधिकारों का संरक्षण।
[बी] अपराधों के लिए सजा के संबंध में संरक्षण।
[सी] जीवन और व्यक्तिगत स्वतंत्रता का संरक्षण।
[डी] कुछ मामलों में गिरफ्तारी और हिरासत के खिलाफ संरक्षण
Who among the following has been given the power by the Constitution of India to "Impose Reasonable Restrictions" on the fundamental rights?
[A] President
[B] Parliament
[C] Supreme Court
[D] Both Parliament & Supreme Court
निम्नलिखित में से किसे भारत के संविधान द्वारा मौलिक अधिकारों पर "उचित प्रतिबंध लगाने" की शक्ति दी गई है?
[ए] राष्ट्रपति
[बी] संसद
[सी] सुप्रीम कोर्ट
[डी] संसद और सर्वोच्च न्यायालय दोनों
The Bicameral legislature is an essential features in which among the following types of Governments?
[A] Parliamentary System
[B] Presidential system
[C] Federal System
[D] Unitary System
द्विसदनीय विधायिका निम्नलिखित में से किस प्रकार की सरकारों में एक आवश्यक विशेषता है?
[ए] संसदीय प्रणाली
[बी] राष्ट्रपति प्रणाली
[सी] संघीय प्रणाली
[डी] एकात्मक प्रणाली
Article 20 of the Indian Constitution is an important fundamental right as it provides protection in respect of conviction for offences. Which of the following is not a safeguard under Article 20?
[A] Ex-Post facto law
[B] Double jeopardy
[C] Prohibition against self-incrimination
[D] Right to be produced before a magistrate within 24 hours
भारतीय संविधान का अनुच्छेद 20 एक महत्वपूर्ण मौलिक अधिकार है क्योंकि यह अपराधों के लिए सजा के संबंध में सुरक्षा प्रदान करता है। निम्नलिखित में से कौन सा अनुच्छेद 20 के तहत सुरक्षा नहीं है?
[ए] कार्योत्तर कानून
[बी] दोहरा खतरा
[सी] आत्म-अपराध के खिलाफ निषेध
[डी] 24 घंटे के भीतर मजिस्ट्रेट के सामने पेश किए जाने का अधिकार
Which of the following statements is an incorrect statement about Governor of a state?
[A] Governor can summon or prorogue the state legislature and dissolve the state legislative assembly
[B] He nominates one-sixth of the members of state legislative assembly
[C] He is responsible to set up State Finance Commission and present the report of commission in state legislature
[D] District judges are appointed by the Governor
निम्नलिखित में से कौन सा कथन किसी राज्य के राज्यपाल के बारे में गलत कथन है?
[ए] राज्यपाल राज्य विधानसभा को बुला या सत्रावसान कर सकता है और राज्य विधानसभा को भंग कर सकता है
[बी] वह राज्य विधान सभा के सदस्यों के छठे हिस्से को नामांकित करता है
[सी] वह राज्य वित्त आयोग की स्थापना और राज्य विधानमंडल में आयोग की रिपोर्ट पेश करने के लिए जिम्मेदार है
[D] जिला न्यायाधीशों की नियुक्ति राज्यपाल द्वारा की जाती है
As always, if you have any questions or feedback, we'd love to hear from you. You can reach us on support@class24.study or
Call support - +91 78498 41445 ,+91 83029 72601 ,+91 78775 18210
Let's connect with CLASS24
🚀 Download the Class24 App here: