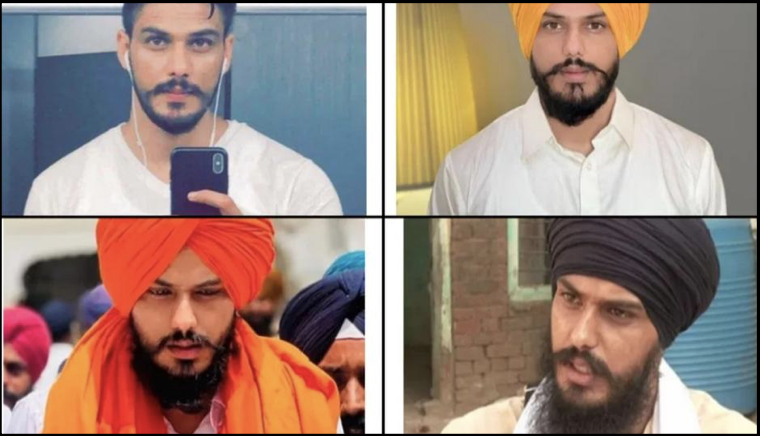 'This is what Amritpal looks like': Punjab cops release photos, seek help to catch radical preacher
Cops released several photos of the Khalistani sympathiser Tuesday, 4 days after he gave them the slip.
New Delhi: Still unable to catch radical preacher Amritpal Singh, the Punjab Police on Tuesday released several photos of the man — with and without beard and turban – seeking people's help in flushing him out from wherever he is hiding.
Punjab Inspector General of Police Sukhchain Singh Gill said Tuesday: "There are several pictures of Amritpal Singh in different attires. We are releasing all of these pictures. I request you to display them so that people can help us to arrest him in this case."
Singh has been on the run since a failed attempt by the police to catch him at a naka in Shahkot, Jalandhar on Saturday. Travelling in a Mercedes, Singh made a U-turn as soon as he saw the cops and fled through village roads. Some of his associates, travelling as part of his entourage that day, were later arrested.
The 30-year-old radical preacher was seen in CCTV footage at a Jalandhar toll plaza around 11.27 am Saturday in the front seat of a Maruti Brezza, NDTV reported. It is believed he switched cars – from the Mercedes — which has been recovered — to the Brezza.
In the car, the Khalistani sympathiser is seen wearing a shirt, and not his usual flowing attire, which would mean he is trying to look different in order to escape recognition.
He also dumped his turban and apparently got away on a bike. The Brezza was seized, and four people who helped the "Waris De Punjab" chief escape were arrested.
Nearly 120 people have been arrested so far in the crackdown on Singh's network, and four including Amritpal Singh and his uncle Harjit have been slapped with the stringent National Security Act. Three of them have been flown to BJP-ruled Assam for interrogation.
IGP Singh said a non-bailable arrest warrant has also been issued against Singh.
Ever since Saturday, the police have mounted an unprecedented hunt for the radical man, even switching off Internet and SMS services in a state of three crore people.
Apart from the arrests, cops have also seized 10 guns and 430 rounds of ammunition and other equipment from the associates of Singh, who has revived the call for a separate homeland in Punjab.
Police have accused Singh and his supporters of attempted murder, obstruction of law enforcement and creating disharmony.
Sukhchain Gill told Reuters that Singh had set up a militia called Anandpur Khalsa Fauj. Its logos were found on the gate of his house and on the rifles and bullet-proof jackets recovered there, Gill said.
The Punjab Police have also harped on the help Singh may have got from the Pakistani spy agency ISI. The central government has asked the international border forces to be alert in case he tries to slip through.
Meanwhile, the Punjab and Haryana High Court on Tuesday came down heavily on the Punjab Police, highlighting its "intelligence failure" for not being able to catch Singh.
"You have 80,000 cops. How did Amritpal Singh escape?" the court asked the state government. It also directed the police to submit a status report on the operation, remarking its intelligence network has failed so far.

The Print
( National )