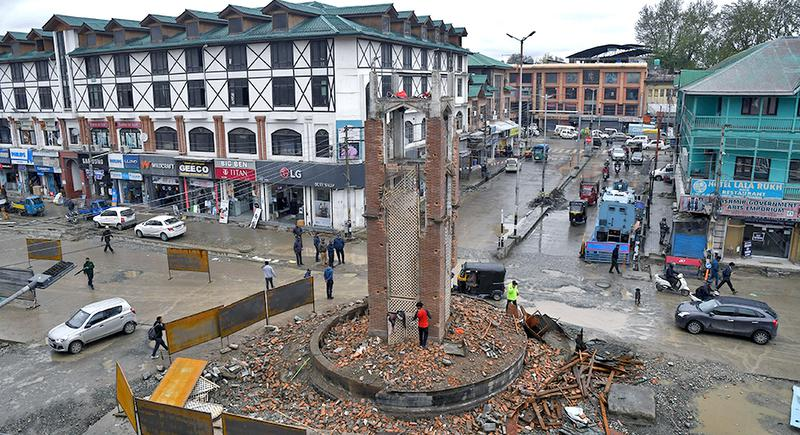 There is growing criticism among the regional parties over the "poor ideation" and "tacky material" used for the ₹980-crore Smart City Project in Srinagar, as it nears completion in the capital city of Jammu and Kashmir.
The project aims to build pedestrian pathways, markets, cycling tracks and usher in 'smart traffic regulation ' in the city.
Former Chief Minister and Peoples Democratic Party (PDP) president Mehbooba Mufti on Tuesday pointed out the poor material used for tiles.
"Traditional and heritage style of architecture and planning is being replaced by hideous tiles. Sad to see beautiful 'divar' stones demolished to make way for tacky and distasteful planning," she said.
Highlighting the excavations, Ms. Mufti said, "Half of Srinagar is excavated for a 'Smart City' by reducing motorable roads to increase pedestrian paths, which isn't just causing inconvenience, but also comes at the cost of aesthetics."
The damage done to chinars, which lend character of an avenue to the city streets, has also come under severe criticism.
"Is Srinagar city being 'smartened' with this blatant chopping of chinars?These green monuments are the script of our past and future. Everything that defines Kashmir is being erased. Why this obsession with 'changing the face' of Kashmir?" National Conference spokesman Imran Nabi Dar said.
Earlier, J&K Apni Party president Altaf Bukhari said, "The project is being completed with the upcoming G-20 meeting in mind. The carriageway has been reduced. The project doesn't seem to be ideated for the people of Kashmir."
The Hindu
(National)
As always, if you have any questions or feedback, we'd love to hear from you. You can reach us on support@class24.study or
Call support - +91 78498 41445,+91 83029 72601,+91 78775 18210
Let's connect with CLASS24
🚀 Download the Class24 App here: