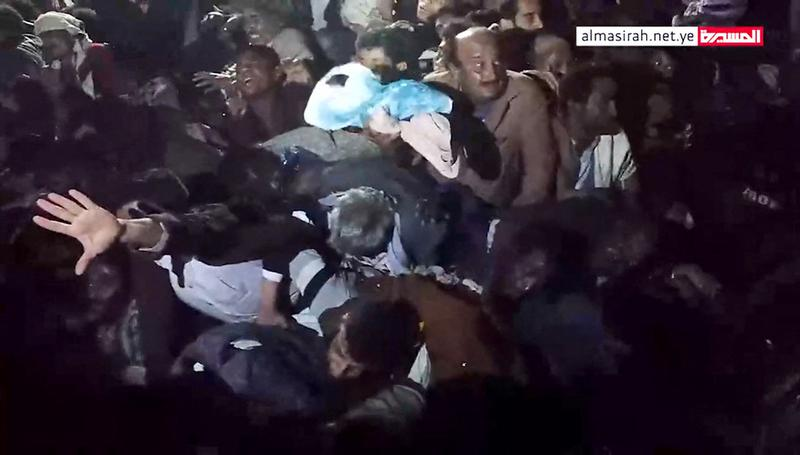 At least 85 people were killed and hundreds injured in a crush at a Ramzan cash handout in Yemen early on Thursday, as the impoverished country suffered one of its worst tragedies just as optimism was growing over its bitter civil war.
Three people were detained over the stampede in Sanaa, Yemen's rebel-held capital, after large crowds gathered at a school to receive gifts of 5,000 rial (about $8) for the end of Ramzan.
Harrowing footage screened by the Iran-backed Huthi rebels' Al Masirah TV showed a tightly packed crowd screaming and shoving, unable to move, while others attempted to haul stricken people out of the crush.
Other shots showed dead bodies on the ground as the panic continued. Afterwards, piles of abandoned sandals, clothing and a crutch littered the scene, while an investigator in white protective gear collected evidence.
"It was a huge crowd. They fell on me, and I got hurt," an injured child told Al Masirah from his hospital bed.
A Huthi security official speaking on condition of anonymity told AFP that at least 85 people were killed and "more than 322" injured, 50 of them seriously.
"Women and children were among the dead," the official said. A health official confirmed the toll.
The tragedy comes just ahead of Eid al-Fitr, a major Muslim festival, and punctures a buoyant mood over the war in the Arabian Peninsula's poorest country, following peace talks and an exchange of nearly 1,000 prisoners last week.
The Hindu
(International)
As always, if you have any questions or feedback, we'd love to hear from you. You can reach us on support@class24.study or
Call support - +91 78498 41445,+91 83029 72601,+91 78775 18210
Let's connect with CLASS24
🚀 Download the Class24 App here: